| | |
| --- | --- |
| | OTD Presents the 2019 Tourism Awards at MTTS |
IN THE NEWS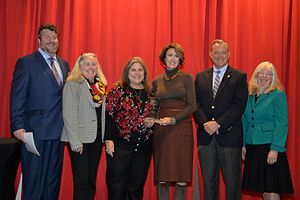 OTD Presents the 2019 Tourism Awards at MTTS
The 2019 Maryland Tourism Awards were presented at the 39th Annual Maryland Tourism & Travel Summit in Allegany County. The awards, given by the Maryland Department of Commerce Office of Tourism Development (OTD) and the Maryland Tourism Development Board (MTDB), recognize excellence and major contributions in expanding the market of Maryland tourism products, maximizing opportunities to generate overnight stays, leveraging partnerships, and showcasing Maryland as an exciting, must-see tourism destination.
"Tourism is a very important Maryland industry, and it provides significant economic impact for our state," said Assistant Secretary for Commerce Tom Riford. "I am honored to help present the 2019 Maryland Tourism Awards, which recognize the outstanding accomplishments of our tourism partners who support the collective mission of increasing visitor spending in Maryland." The awards were presented in four categories. Caroline, Kent, Queen Anne's and Talbot Counties won the Market Expansion Award for their joint project, "Maryland's Tastiest Catch." The Town of Leonardtown, The Friends of St. Clement's Island & Piney Point Museums, and Visit St. Mary's MD were given the Maximizing Opportunities Award for their work in expanding the popular Potomac Jazz & Seafood Festival. The Garrett County Chamber of Commerce won the Transactionable Outcomes Award for their successful "3-2-1 Lodging & Activity Program." And the Leveraging Partnerships Award went to the 18 Eastern Shore towns and their partners that produced the "Eat.Drink.Buy Art Campaign." Congratulations to all of the winners and nominees.
The Leveraging Partnerships Award went to the "Eat.Drink.Buy Art" campaign. Pictured, left to right: Jim Meyer, OTD; Liz Fitzsimmons, OTD; Mindie Burgoyne, Maryland Department of Commerce; Lisa Challenger, Worcester County Tourism; Tom Riford, Maryland Department of Commerce; Judy Bixler, Chair, Maryland Tourism Development Board.